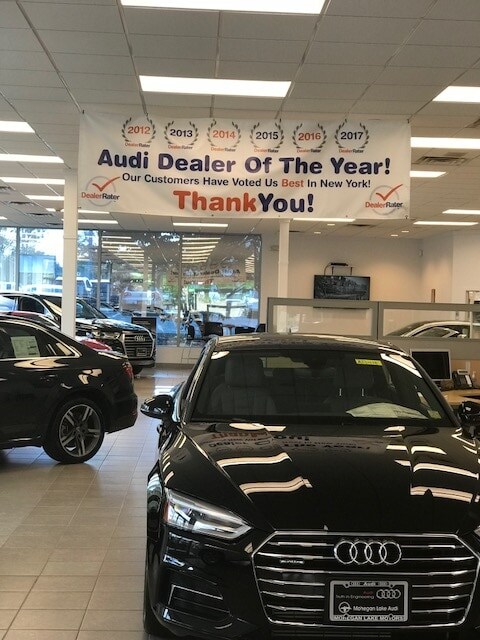 Our Philosophy
We never view a transaction with any client as a one time event. Everything we do...every action we take is fully transparent, and in your best interest. With this way of doing business, we strive to make every event the basis for a long term relationship. 
It's therefore little wonder that we have one of the highest percentages of repeat purchasing loyalty of any Audi dealership in the nation. It's also the reason why we have been honored as the top rated Audi dealership in New York State by DealerRater. Westchester Magazine and Hudson Valley Magazine have selected us "Dealer of the Year" by their respective readers. 
This commitment to integrity and respect for our clients, has enabled us to continue in business for over 50 years in the Hudson Valley Market. It has enabled us to grow and improve our operations during even the most difficult of economic times. When you enter our showroom doors, you will immediately see and feel first hand the Mohegan Lake Audi DIFFERENCE. Professional salespeople guide you and let you proceed at your own pace without any pressure. You can take your time to browse and compare our new Audi models as well as Certified Pre-Owned offerings. You will come to realize that our slogan, "THE PREMIUM EXPERIENCE WITHOUT THE PREMIUM", is not merely a slogan ... it's our way of doing business ... everyday.
Our Commitment
For over 50 years, integrity has been the hallmark of everything we do. We have earned an A+ rating from the Westchester Better Business Bureau and other business organizations. This commitment to excellence and a total ethical way of doing business starts from our President, Barry Rost who was the first recipient of the Yorktown Businessman of the Year Award, and continues with every colleague.
Feel free to look us up online or check with Audi to get a rating on our dealership. And if you are concerned with doing business with us from afar, we will provide as many references as you need from satisfied clients from virtually every state in the United States and Canada.
We cherish our reputation above all else and we endeavor to preserve it through every transaction.